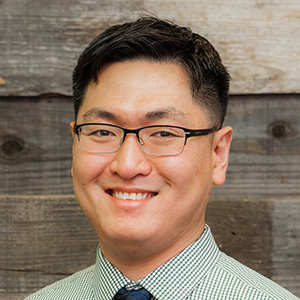 Dr. Kim received his Doctor of Dental Surgery degree from the University of Michigan School of Dentistry, which was ranked 4th in the world by the QS World University Rankings in 2015. After graduation, he moved to Providence, Rhode Island and served as a dentist at community health centers, treating underserved women and children as well as the homeless. After witnessing what big differences his small contribution can make in children's health, he decided to pursue a career in pediatric dentistry. Dr. Kim then went on to complete his specialty training in pediatric dentistry at Saint Joseph Health Services of Rhode Island, a Providence site for Lutheran Medical Center. During his residency, he received extensive training in hospital dentistry, providing dental care for patients with special health care needs, and management of Early Childhood Caries in infants and toddlers. His training also included providing emergency dental services at Hasbro Children's Hospital, the only Level 1 Pediatric Trauma Center in the state of Rhode Island. He participated in a number of Give Kids a Smile Day events over the years, and he enjoyed providing dental screening for children at the refugee clinic and local schools in Rhode Island. He wishes to continue his contribution in providing dental care for local underserved children in Illinois.
Through continuing education, Dr. Kim stays up-to-date in latest advancement in dentistry. He was a member of Seattle Study Club, a prestigious club for dentists and dental specialists across the world. Also as a proud member of American Academy of Pediatric Dentistry, American Dental Association, Illinois State Dental Society, and Chicago Dental Society, Dr. Kim regularly attends their annual meetings for latest updates in the field. Most recently, he received an associate fellowship from the World Clinical Laser Institute.
Dr. Kim enjoys skating and going on long bike rides with his two children, and regularly attends baseball and hockey games. He can also be found in local ice rinks struggling to pursue his other dream of playing in the NHL.