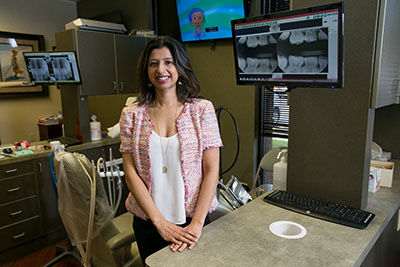 Anjali Talati has trained in pediatric dentistry from Staten Island University hospital, New York. She received her doctorate and completed her training from Nova Southeastern University College of Dental Medicine in 2005.
Dr. Talati's primary expertise is working with children and trying to make complex dental procedures more comfortable for the child. Her practice philosophy is try her best to make it a positive experience for the both the child and the parents. She is sensitive to the socio-emotional development of children and their needs and tries to include that aspect during treatment.
Dr. Talati is certified in Laser Dentistry and has an associate fellowship with the World Clinical Laser Institute. Laser dentistry or NO NEEDLE DENTISTRY is a great way to do dental fillings and other difficult procedures on children with great ease.
She is committed to helping educate her patients and their parents in the prevention of cavities while at the same time alleviating the anxiety that often accompanies a visit to the dentist. Dr. Talati and her team keep up with all the latest developments in pediatric dentistry.
Dr. Talati is routinely invited to speak in schools and in front of parent groups. She often visits other professional organizations and offices where she routinely updates other health care professionals with all the latest advancements and technology with pediatric dentistry.
Being a mom of two young children herself Dr. Talati understands the feelings of a parent and their view point. Coming from a family of Indian origin she speaks fluent Gujarati and Hindi. Her hobbies and interest include reading, writing and exercising.